haga clic para ver el wiki de TLD

Vista General
| | |
| --- | --- |
| código de país | MS |
| país | Montserrat |
| Políticas de disputa | CoCCA dispute policy |
| sitio web | http://nic.ms/ |
| restricciones de registrante | No |
Economía de registro por DI
| | |
| --- | --- |
| total de dominios registrados | |
| Valor de TLD total | $0 |
| calificación de TLD total | |
| ingreso anual total de TLD | |
| crecimiento proyectado para los siguientes 12 meses | N/A |
| PIB/dominio | N/A |
| PIB/calificación de dominio | |
| dominio/habitante | N/A |
| calificación de dominio/habitante | |
| usuarios de banda ancha en .ms | N/A |
| usuario/dominio de banda ancha | N/A |
Información general de TLD
| | |
| --- | --- |
| introducido | 1997 |
| tipo de TLD | ccTLD |
| estatus | Active |
| registro | MNI Networks Ltd. |
| patrocinador | MNI Networks Ltd. |
Comentarios
Registrations are available directly at second level. This domain is used by a number of sites, a few of which are in Montserrat.
Registradores actualmente sugeridos
Información de marca
Trademarks are assigned through the Supreme Court Registry. Montserrat is not a member of the Madrid Protocol. A trademark is valid for 10 years and may be renewed for further periods of 10 years each.
Abogados de marca registrada actualmente sugeridos
Logo de TLD oficial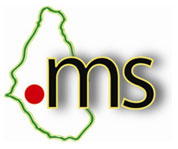 .ms index
Información del país
| | |
| --- | --- |
| país | Montserrat |
| capital | Plymouth (de jure), Brades (de facto) |
| idioma oficial | English |
| idiomas reconocidos | |
| gobierno | British Overseas Territory |
| legislación | |
| Acceso de EU | |
| área | 102 km2 |
| calificación del área | 219th |
| población | 4655 |
| calificación de población | 218th |
| densidad de población | |
| calificación de la densidad de población | |
Economía y desarrollo
| | |
| --- | --- |
| estimado de PIB para el 2010 | |
| PIB per cápita | |
| Coeficiente de (2005) | |
| IDH (2010) | |
| calificación de IDH | |
| moneda | East Caribbean dollar (XCD) |
| zona horaria | (UTC-4) |
| conducen en la | |
| código para llamadas | +1-664 |