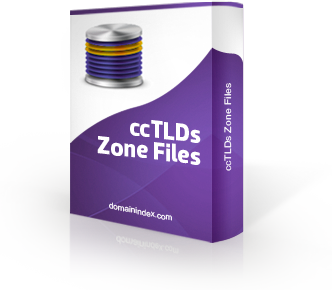 ABOUT CCTLD FILES
ccTLD zone files are flat text files that contain list of registered domain names from a given ccTLD.
Our collection of ccTLD zone files incorporates 69 zone files, which are separated in two groups according to your requirements. If you need registered domains with name servers you can choose from 27 zone files, else the offer contains 41 files with registered domains.
For the same price we offer additional 11 gTLD zonefiles with more then 139 million domains.
Total size of the whole ccTLD zone file collection is up to 479 MB and it can be purchased for only $249. The purchase process is very convenient. After you pay via PayPal, you'll receive information on your e-mail address, which will contain links that directly leads to download. This links are going to be accessible on your e-mail in the next 30 days after the e-mail is sent.
| | |
| --- | --- |
| Table 1 | illustrates more details about registered domains, name servers and approximate size of each zone file. |
| | |
| --- | --- |
| Note: | Before making a purchase please register for free. |

Total size of the zipped file is 479 MB
After paying via PayPal, you will receive an e-mail with download link. The link is available 30 days after the mail is sent.
Table 1
TLD
Domains
Nameservers
Approximate Size
ccTLD TOTAL: 70 zonefiles, 66 million domains
aero
69,618
yes
3.0 MB
ag
39,886
yes
1.8 MB
com.ar
631,131
no
12 MB
at
1,160,468
no
19 MB
co.at
34,454
no
576 KB
or.at
8,492
no
144 KB
com.au
1,400,022
no
28 MB
edu.au
1,559
no
24 KB
gov.au
714
no
12 KB
id.au
8,103
no
116 KB
net.au
189,270
no
3.7 MB
org.au
31,293
no
532 KB
be
754,503
no
11 MB
com.br
929,787
no
17 MB
by
105,041
yes
4.2 MB
ca
1,558,144
no
25 MB
ch
875,891
no
13 MB
cl
148,313
no
1.9 MB
cn
4,188,561
no
57 MB
com.cn
435,039
no
6.3 MB
co
1,261,447
no
19 MB
cz
452,098
no
5.5 MB
de
10,655,641
no
178 MB
de with ns
14,660,635
yes
767 MB
dk
598,546
no
7.9 MB
es
1,213,091
no
19 MB
com.es
41,578
no
744 KB
eu
2,478,710
no
36 MB
fr
1,391,884
no
21 MB
gr
183,515
no
2.4 MB
ie
138,039
no
2.1 MB
in
690,312
no
9.5 MB
co.in
195,836
no
3.3 MB
io
9,977
yes
420 KB
ir
199,805
no
2.4 MB
it
1,204,806
no
18 MB
jp
448,375
no
5.6 MB
co.ke
37,349
no
1,848 KB
kz
60,298
no
688K
la
23,877
no
280 KB
ma
46,311
no
704 KB
me
616,902
no
8.0 MB
mx
124,021
no
1.7 MB
com.mx
211,684
no
3.7 MB
ng
7,299
no
96 KB
com.ng
5,734
no
100 KB
net.ng
95
no
4.0 KB
org.ng
4,203
no
72 KB
gov.ng
530
no
8.0 KB
edu.ng
211
no
4.0 KB
sch.ng
39
no
4.0 KB
nl
2,291,895
no
34 MB
no
269,744
no
3.4 MB
co.nz
307,986
no
5.3 MB
net.nz
22,429
no
388 KB
org.nz
17,538
no
300 KB
pl
966,500
no
13 MB
pe
19,367
yes
864 KB
pk
96,285
yes
4.6 MB
pt
105,950
no
1.4 MB
com.pt
19,176
no
336 KB
ro
231,154
no
2.9 MB
ru
4,834,542
no
63 MB
se
601,663
no
7.8 MB
sk
287,782
no
3.8 MB
su
124,080
no
1.5 MB
tv
500,730
no
6.8 MB
co.uk
5,472,521
no
101 MB
us
1,810,007
yes
16.83 MB
рф
831,857
no
24 MB
gTLD TOTAL: 11 zonefiles, 145 million domains
asia
364,049
yes
3.66 MB
biz
2,652,067
yes
28.65 MB
com
109,658,409
yes
1132.16 MB
info
5,724,449
yes
58.99 MB
mobi
1,070,411
yes
10.48 MB
name
199,248
yes
2.18 MB
net
15,173,503
yes
166.41 MB
org
10,402,810
yes
113.23 MB
pro
113,327
yes
1.1 MB
tel
147,576
yes
0.75 MB
xxx
109,264
yes
0.76 MB
ALL TLDs TOTAL: 81 zonefiles, 211 million domains