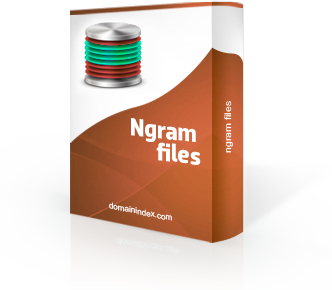 ABOUT N-GRAM FILES
N-grams are sequences of n contiguous arbitrary text units. These text units can be words or single characters. The n-grams typically are collected from a text or speech corpus.
Our n-grams collection contains more than 814 million 1-gram in French, German, Russian, Spanish and English and more than 2,419 billions 2-grams in English. This collection is available for the price of $900. The purchase process is very convenient. You can commit safe and efficient e-commerce transaction via PayPal, after which you'll receive information on your e-mail address. The e-mail will contain 118 download links that directly lead to download. Those links are going to be accessible on your e-mail in the next 48 hours after the e-mail is sent.
| | |
| --- | --- |
| Table 1 | contains information about how many words and n-grams are there in each language. |
| | |
| --- | --- |
| Table 2 | contains information about total size of each file that can be downloaded. |
File format:
Each line of the files has the following format:
"n-gram","year","total","pages","books"
This means that "n-gram" in "year" occurred "total" times at "pages" pages of "books" books.
| | |
| --- | --- |
| Note: | Before making a purchase please register for free. |

Total size of each zipped file is approximately 115 MB
After paying via PayPal, you will receive an e-mail with 118 download links.The links are available 30 days after the mail is sent.
Table 1
Language
words or phrases
n-grams
1-gram
French
1,372,061
114,830,157
German
3,098,678
207,640,306
Russian
2,890,485
192,180,448
Spanish
1,438,384
113,648,250
English
2,234,175
186,652,682
2-grams
English
31,321,694
2,419,296,715
Table 2
| Filename | size |
| --- | --- |
| ngrams_french_1_1.csv.gz | 166 MB |
| ngrams_french_1_2.csv.gz | 152 MB |
| ngrams_french_1_3.csv.gz | 141 MB |
| ngrams_french_1_4.csv.gz | 38 MB |
| ngrams_german_1_1.csv.gz | 139 MB |
| ngrams_german_1_2.csv.gz | 137 MB |
| ngrams_german_1_3.csv.gz | 132 MB |
| ngrams_german_1_4.csv.gz | 132 MB |
| ngrams_german_1_5.csv.gz | 128 MB |
| ngrams_german_1_6.csv.gz | 127 MB |
| ngrams_german_1_7.csv.gz | 113 MB |
| ngrams_russian_1_1.csv.gz | 102 MB |
| ngrams_russian_1_2.csv.gz | 100 MB |
| ngrams_russian_1_3.csv.gz | 98 MB |
| ngrams_russian_1_4.csv.gz | 97 MB |
| ngrams_russian_1_5.csv.gz | 95 MB |
| ngrams_russian_1_6.csv.gz | 93 MB |
| ngrams_russian_1_7.csv.gz | 91 MB |
| ngrams_russian_1_8.csv.gz | 89 MB |
| ngrams_russian_1_9.csv.gz | 89 MB |
| ngrams_russian_1_10.csv.gz | 52 MB |
| ngrams_spanish_1_1.csv.gz | 171 MB |
| ngrams_spanish_1_2.csv.gz | 154 MB |
| ngrams_spanish_1_3.csv.gz | 141 MB |
| ngrams_spanish_1_4.csv.gz | 34 MB |
| ngrams_english_1_1.csv.gz | 165 MB |
| ngrams_english_1_2.csv.gz | 152 MB |
| ngrams_english_1_3.csv.gz | 149 MB |
| ngrams_english_1_4.csv.gz | 141 MB |
| ngrams_english_1_5.csv.gz | 134 MB |
| ngrams_english_1_6.csv.gz | 43 MB |
| ngrams_english_2_1.csv.gz | 118 MB |
| ngrams_english_2_2.csv.gz | 118 MB |
| ngrams_english_2_3.csv.gz | 118 MB |
| ngrams_english_2_4.csv.gz | 117 MB |
| ngrams_english_2_5.csv.gz | 117 MB |
| ngrams_english_2_6.csv.gz | 118 MB |
| ngrams_english_2_7.csv.gz | 117 MB |
| ngrams_english_2_8.csv.gz | 117 MB |
| ngrams_english_2_9.csv.gz | 117 MB |
| ngrams_english_2_10.csv.gz | 117 MB |
| ngrams_english_2_11.csv.gz | 117 MB |
| ngrams_english_2_12.csv.gz | 116 MB |
| ngrams_english_2_13.csv.gz | 116 MB |
| ngrams_english_2_14.csv.gz | 115 MB |
| ngrams_english_2_15.csv.gz | 115 MB |
| ngrams_english_2_16.csv.gz | 115 MB |
| ngrams_english_2_17.csv.gz | 115 MB |
| ngrams_english_2_18.csv.gz | 114 MB |
| ngrams_english_2_19.csv.gz | 114 MB |
| ngrams_english_2_20.csv.gz | 114 MB |
| ngrams_english_2_21.csv.gz | 114 MB |
| ngrams_english_2_22.csv.gz | 113 MB |
| ngrams_english_2_23.csv.gz | 114 MB |
| ngrams_english_2_24.csv.gz | 113 MB |
| ngrams_english_2_25.csv.gz | 114 MB |
| ngrams_english_2_26.csv.gz | 115 MB |
| ngrams_english_2_27.csv.gz | 113 MB |
| ngrams_english_2_28.csv.gz | 112 MB |
| ngrams_english_2_29.csv.gz | 112 MB |
| ngrams_english_2_30.csv.gz | 112 MB |
| ngrams_english_2_31.csv.gz | 112 MB |
| ngrams_english_2_32.csv.gz | 112 MB |
| ngrams_english_2_33.csv.gz | 111 MB |
| ngrams_english_2_34.csv.gz | 112 MB |
| ngrams_english_2_35.csv.gz | 113 MB |
| ngrams_english_2_36.csv.gz | 112 MB |
| ngrams_english_2_37.csv.gz | 111 MB |
| ngrams_english_2_38.csv.gz | 110 MB |
| ngrams_english_2_39.csv.gz | 110 MB |
| ngrams_english_2_40.csv.gz | 110 MB |
| ngrams_english_2_41.csv.gz | 110 MB |
| ngrams_english_2_42.csv.gz | 112 MB |
| ngrams_english_2_43.csv.gz | 110 MB |
| ngrams_english_2_44.csv.gz | 109 MB |
| ngrams_english_2_45.csv.gz | 109 MB |
| ngrams_english_2_46.csv.gz | 109 MB |
| ngrams_english_2_47.csv.gz | 109 MB |
| ngrams_english_2_48.csv.gz | 111 MB |
| ngrams_english_2_49.csv.gz | 109 MB |
| ngrams_english_2_50.csv.gz | 108 MB |
| ngrams_english_2_51.csv.gz | 109 MB |
| ngrams_english_2_52.csv.gz | 108 MB |
| ngrams_english_2_53.csv.gz | 109 MB |
| ngrams_english_2_54.csv.gz | 109 MB |
| ngrams_english_2_55.csv.gz | 108 MB |
| ngrams_english_2_56.csv.gz | 108 MB |
| ngrams_english_2_57.csv.gz | 108 MB |
| ngrams_english_2_58.csv.gz | 108 MB |
| ngrams_english_2_59.csv.gz | 109 MB |
| ngrams_english_2_60.csv.gz | 108 MB |
| ngrams_english_2_61.csv.gz | 107 MB |
| ngrams_english_2_62.csv.gz | 107 MB |
| ngrams_english_2_63.csv.gz | 107 MB |
| ngrams_english_2_64.csv.gz | 107 MB |
| ngrams_english_2_65.csv.gz | 107 MB |
| ngrams_english_2_66.csv.gz | 107 MB |
| ngrams_english_2_67.csv.gz | 106 MB |
| ngrams_english_2_68.csv.gz | 106 MB |
| ngrams_english_2_69.csv.gz | 106 MB |
| ngrams_english_2_70.csv.gz | 106 MB |
| ngrams_english_2_71.csv.gz | 105 MB |
| ngrams_english_2_72.csv.gz | 105 MB |
| ngrams_english_2_73.csv.gz | 105 MB |
| ngrams_english_2_74.csv.gz | 106 MB |
| ngrams_english_2_75.csv.gz | 105 MB |
| ngrams_english_2_76.csv.gz | 104 MB |
| ngrams_english_2_77.csv.gz | 105 MB |
| ngrams_english_2_78.csv.gz | 104 MB |
| ngrams_english_2_79.csv.gz | 104 MB |
| ngrams_english_2_80.csv.gz | 104 MB |
| ngrams_english_2_81.csv.gz | 104 MB |
| ngrams_english_2_82.csv.gz | 103 MB |
| ngrams_english_2_83.csv.gz | 103 MB |
| ngrams_english_2_84.csv.gz | 103 MB |
| ngrams_english_2_85.csv.gz | 103 MB |
| ngrams_english_2_86.csv.gz | 103 MB |
| ngrams_english_2_87.csv.gz | 42 MB |